Public Displays
The Estate and Copyright of Enzo Plazzotta is exclusively owned by the Chris Beetles Gallery.
For sales and enquires please contact Chris Beetles Gallery
www.chrisbeetles.com/artist/290/enzo-plazzotta
8 & 10 Ryder Street St James's London SW1Y 6QB | 020 7839 7551
The striking work of Enzo Plazzotta enhances several communal spaces across London, from the College Gardens of Westminster Abbey to the Barbican Centre. His many important commissions for public sculptures have made a significant contribution to the look of London. 
Enzo Plazzotta. A Catalogue Raisonné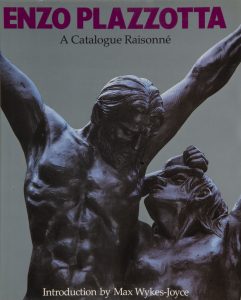 Rest of the World Delivery:
£25
Written by:
(Introduction) Max Wykes-Joyce
Format:
Hardback 224 x 282 mm, 195 pages, 366 illustrations, 16 in colour. 
The catalogue raisonné illustrates all Plazzotta's cast work in bronze from aesthetically graceful statuettes to the bolder more personal statements. It also lists his major portrait commissions and documents the special editions of his work in acrylic, silver and gold.